From
TechCrunch
:
Paypal has launched the

Paypal Storefront Widget

, a

web based widget

that allows anyone to embed a store widget on a web site.

The Storefront widget offers a seamless e-commerce platform for those wishing to sell anything on their site, such as t-shirts, CD's or other items

The widget (see pic) includes:

• An index page that shows

thumbnail images

of all the items for sale through the widget
• A

product page

that shows a larger view of the items/ products for sale
• A

shopping cart

directly within the widget
• About and

policy pages

mean that any conditions are also contained with the widget
Launched around half a year ago,
PayPal's Storefront Widget
is relatively new compared to Amazon and eBay's own stores. Apart from me and a few local bloggers who use it to peddle our Entrecard credits, Lynne from
The Sewing Mom
uses the widget to sell her blankets and baskets. So it's quite a stroke of genius from PayPal to have come up with such an idea.
As for me, the widget is just another avenue for me to sell some Entrecard credits aside from eBay's auctions. Currently I'm making my icons available to anyone who wants to create a store. My only request is that you use any of these
188x168px icons
, please provide me a proper credit (
DeltaPanthera
) and link back to this blog or blog post.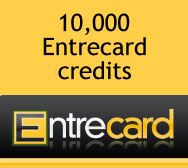 •
500 Entrecard credits icon
•
1,000 Entrecard credits icon
•
2,000 Entrecard credits icon
•
5,000 Entrecard credits icon
•
10,000 Entrecard credits icon
(pic on right)